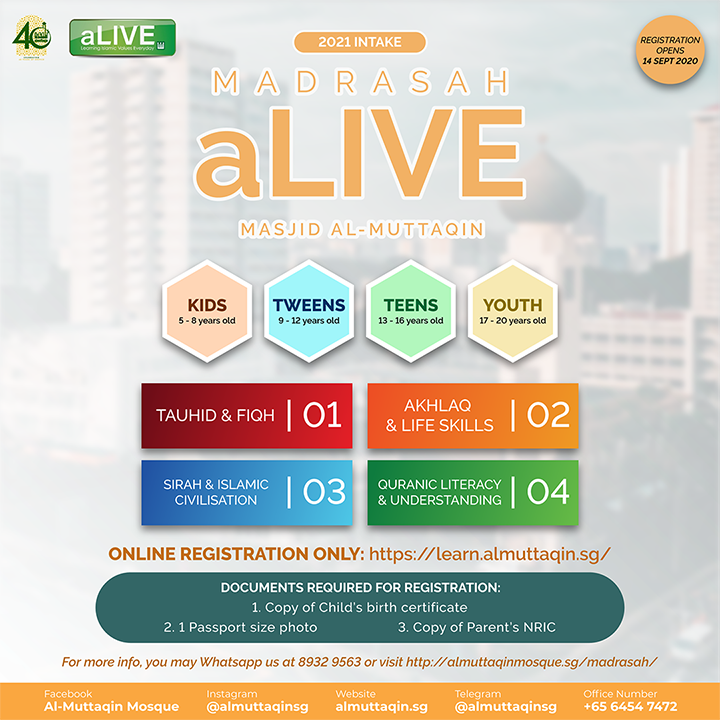 REGISTRATION FOR 2021 INTAKE IS NOW

OPEN

!
Kids aLIVE: 5 – 8 years old
Tweens aLIVE: 9 – 12 years old
Teens aLIVE: 13 – 16 years old
Youth aLIVE: 17 – 20 years old
SCHOOL SESSIONS
Wednesday – Friday | 3pm – 6pm
Saturday – Sunday
Session 1: 08:30am – 11:30am
Session 2: 11:15am – 2:15pm
Session 3: 2:30pm – 5:30pm
CURRICULUM
3 hours session
20 minutes of Quranic Literacy
Practical Solat
Kids/Tweens/Teens/Youth Programme
Learning Journey/Fieldtrip
aQL Workshop
Holiday Programme
CONTENT & APPROACH
The aLIVE programmes adopt a thematic approach to learning.
Different themes appropriate to the different levels are being developed and delivered.
The subjects are: 
Aqidah and Fiqh as "Faith & Practices"
Akhlaq as "Character & Life Skills"
Sirah and Tarikh as "Social & Civilisational Islam"
Iqra' & Quran Reading as "Quranic Literacy"
DESIRED OUTCOME
The aLIVE curriculum aims to shape Muslims who are:
Moral individuals, responsible towards their Creator and all His creations.
Imbibed with Taqwa, self-monitored (muraqabah) and conscientiousness.
Active and responsible partners in human endeavours, participating in community and nation building, and as global citizens.
Able to explain and communicate with others the teachings of Islam in an informed, logical manner and with wisdom
Practising Muslims, committed to the betterment of human life.
For New Students Enrolment
You may email the documents required to learn@almuttaqin.mosque.org.sg
ISLAMIC EDUCATION FUND
For those who are interested in applying for the Islamic Education Fund, below are the guidelines & application form.
IEF Application Guidelines